Release agents for PUR- and EVA-shoe soles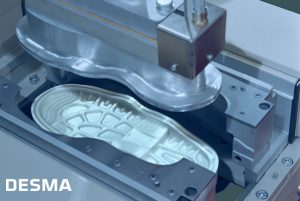 For each of your tasks in the field of the release agents we have the optimal technical solution for you, no matter if we´re talking about water based-, solvent based-, ready to use- or concentrated products. We deliver you the right product for your task-aplication: polyether or polyester, mono- or bi-color, with shiny or with mate surface, naturally optimised for the specific weight of your soles.
Furthermore, we´re able to construct our release agents in such a way that they perfectly adapt to your productional needs, no matter if you apply your product manually, by robot or by the electrostatic method. Finally we´d be pleased to advise you regarding the correct equipment.
All RIKA-release agents are characterized both by their simple application and their very low consume and mould-building. Special developments, like strongly VOC reduced, tin reduced or silcon free release agents round our portfolio perfectly.
Release agents for Polyester
Mono-Color
| Application | Rika-Article | Technology | Short description |
| --- | --- | --- | --- |
| Polyester-Mono-Color | TM 800/… | State-of-the-art release agents exclusively based on synthetic oils | Minimal mould texture, very easy demoulding, dry finish, very good overcaotability |
Release agents for Polyester
Bi-Color
| Application | Rika-Article | Technology | Short description |
| --- | --- | --- | --- |
| Polyester Bi-Color | 820/… | Modern oil-wax release agent, high solid | Especially suited for bi-color direct soling of safety shoes; high-end silky look, minimal mould texture |
| Polyester Bi-Color | 828/… | silicone free | Especially suited for bi-color direct soling of safety shoes; high-end silky look, minimal mould texture; suited for clean rooms |
Release Agents for Polyether
Mono-Color
| Application | Rika-Article | Technology | Short description |
| --- | --- | --- | --- |
| Polyether Mono-Color | VP 747 | Classical, world wide proven, wax based release agent, high solid | Very easy, smooth demoulding, high-end silky look, the ideal product for voguish PUR-soles |
| Polyether Mono-Color | 850/… | Classical, world wide proven,  oil based release agent, high solid | For voguish PUR-(moulded) soles or rather for direct injection applications; high-end silky look, high solid |
Water based release agents
| Application | Rika-Article | Technology | Short description |
| --- | --- | --- | --- |
| Polyester-Mono-Color | WRA 992/… | Oil based emulsion | Very easy, smooth demoulding; both nice and closed skin with a high end touch |
| Polyester Bi-Color | WRA 995/… | Oil wax based emulsion | Both nice and closed skin with a high end, silky like rubber touch |
| Polyether Mono-Color | WRA 993/… | Oil based emulsion | Very smooth, easy demoulding, ideal for both (moulded) soles and for direct injection applications; shiny or matt adjustment possible |
| EVA-Sohlen | WRA 994/… | Oil based emulsion | Ideal for the demoulding of EVA soles or for the demoulding of EVA-technical parts; available as concentrate or as ready-to-use product |